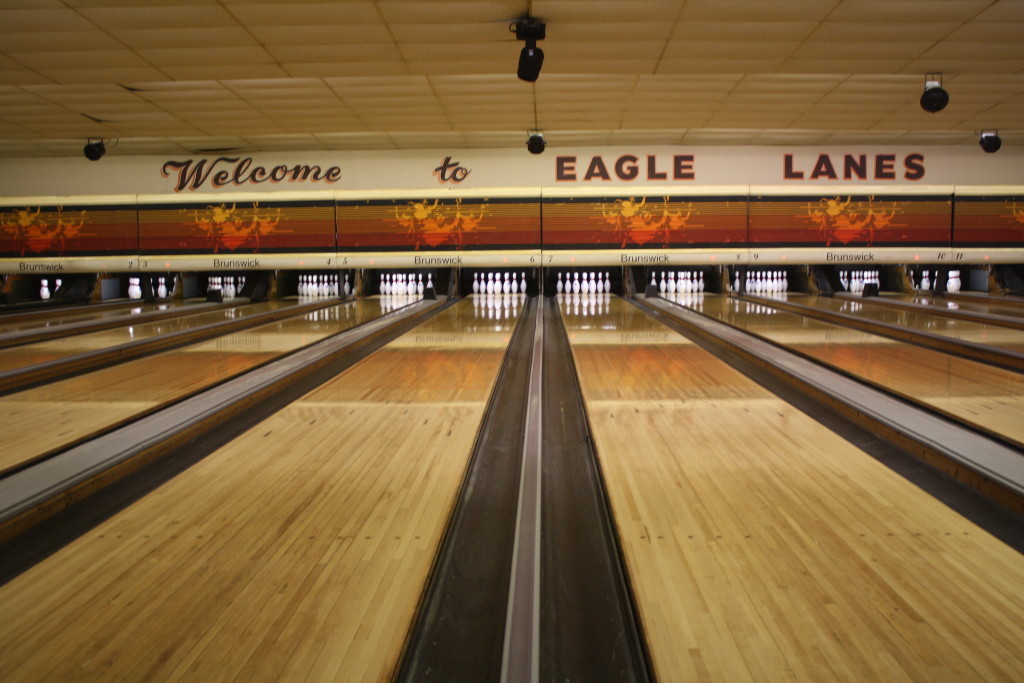 All photos and text by Kevin Harrison
April 30, 2016
Built in the 1970s as the second bowling center in the city of Taylor, the facility was tied with neighboring Skore Lanes for the second-highest capacity of any bowling center Downriver (topped only by Allen Park's Thunderbowl Lanes). Upon its opening, many leagues would move here from neighboring bowling houses. Taylor Lanes was responsible for bringing the Professional Bowlers Assocation (PBA) back to Michigan on a full-time basis beginning in 1985… that year's Budweiser Open was Michigan's first notable stop since the 1980 PBA National Championship in Sterling Heights.
Quieter in recent activity, it was announced in winter 2016 that the facility would be sold to Taylor-based Life Bridge Church, whose original building was at Allen and Superior Roads, near I-75. As part of the purchase, Life Bridge announced six of the 48 lanes would be saved for congregational use.
I attended their official close-out party on April 29, 2016.
---
The well-worn facade of Taylor Lanes awaits the closing festivities in April 2016, preparing to become a memory after over 40 years in business. When I first arrived, activity was sparse. In spite of the many advertisements for open bowling and potential leagues, the center had been seeing some quiet times prior to the purchase by Life Bridge Church.
PERSONAL REFLECTIONS:

When I had first heard about Taylor Lanes, I remember hearing that the facility was being promoted as the next big thing, rivaling Allen Park's Thunderbowl Lanes, which was then the host center for Channel 4's "Bowling For Dollars" with Bob Allison.  Many leagues transferred their business here, including the Woodhaven Stamping Plant (WSP) league my father participated in.  He had bounced around to several houses, including Parkway and Flat Rock Lanes, before finding a home here. One of the household bowling names here, as I recall, was Ernie Segura, whose son was one year ahead of me in school.  Throughout the facility's active history, Segura's name was all over print for bowling consistently high games and series.   
At the front counter were brochures referring people to Woodhaven Lanes, as well as a simply-worded Q&A; to those wondering about Taylor Lanes' fate. As the flier states, "We are all just as sad as you." This menu for the Back Alley Grill snackbar was found inside the building's west end. The east side corridor, with the bar through the windows to the left, and the banquet room to the rear. It appears the interior commons area did receive a paint job in recent years.
In my high school years, another standout based at this facility was former classmate Dama Sisk, who was gaining notice by her bowling style and resulting high scores.
MacLean Hunter Cable TV, the next-door neighbor, tried in the 1980s to replicate the formula of success seen at Thunderbowl by putting on their own show, "Downriver Bowl-Off." Locally produced for a small cable-access audience, it obviously could not enjoy the success of the Channel 4 operation, but was an enjoyable program to watch nevertheless.
Two memories stand out for me above all others. The first occurred in my freshman year of high school in 1986. The principal at Aquinas High School gave us a random day off. My father had been asked to bowl as a substitute at the WSP league that same day. My father was getting anxious about calling it a career from bowling, as his knees were not up to par… plus he wanted to pursue his new found hobby of golf.
We got to Taylor Lanes and the teams were assembled with lane assignments. It was then we found out the normal scorekeeper had called in sick, and no one in the group wanted to volunteer to take their place. For those who were raised before modern computers took over the scoring, everything was done by hand, while the scoring tabulations had to be done in the head — and fast, considering you had to keep track of ten bowlers at all times.
I raised my hand to volunteer and was chosen in spite of my youthful age. I knew one of the opposing bowlers, Nazree "Naz" Browning, and he would ask, "You sure you can handle this, kid?" I simply played along with it.
| | | |
| --- | --- | --- |
| My father had not been a full-time bowler in a couple years, and he would average around 180 per game. But once I took the pencil and started writing figures on the overhead scoreboard, BOOM! Dad was tossing strikes left and right, the teammates joined him in doing so. Poor Naz would look at me every few frames and say, "You belong in school today!" As his team was ready to be swept in the series, he said, "Who's your principal? I want to have a talk with this man!" All in good nature, however. Everything went off without a hitch. My attention span even surprised me by its sharpness. When all was said and done, my father shot a 669 series, tops on the pair for the day. He would retire from league bowling at that point… but what a way to go out, with his son literally in the mix!The other memory was shared with an audience of hundreds for the PBA's 2006 Motor City Classic. | This pin was kept as a souvenir from one of the first two Budweiser PBA opens held at Taylor Lanes, either 1985 or 1986. The rear corridor connecting the wings boast of the facility's pride, showing the participants involved in all PBA broadcasts from Taylor starting in 1985. | In the late 1980s, Taylor Lanes was making a name for itself among the PBA elite. This pin was donated by bowler Bob Benoit, who rolled the fifth perfect game in televised history in 1988. Much of the memorabilia accompanying these portraits had already been stored for safekeeping. It is not sure what will become of the collection. |
The majority of the bowlers in the TV finals I was well-acquainted with, except for a relative newcomer to TV, Tony Reyes. Paired against Hall Of Famer Parker Bohn III in the semi-final match, Reyes would calmly roll the 18th televised perfect game in PBA history, then proceed to win the championship for the only title of his short career. I will never forget his humility, good and friendly nature. Tony Reyes left this life too soon, being killed in an auto accident in September 2012 near Menlo Park, California.
Taylor Lanes, having changed hands from the DiBlasi family and now run by the Dobbins family, also hosted a few events on the side which would later be broadcast on ESPN, including skills/stunt events. One involved rolling a ball underneath chairs to get a strike.
One of the shots went errant, smacked the chair, and took it over to the gutter, scraping some of the paint off and revealing the original red color that highlighted the west wing of the facility for many years. Subsequent visits would show the "scar" was not painted over, leaving a lasting mark.
Times would change, however, as the PBA would change formats and generally base much of its programming on the West Coast. Centered around the World Series of Bowling, a location would hold up to eight pre-taped tournaments at one sitting. The early 2010s would mark Taylor's last opportunity to host a tournament. The operation would later change hands under new ownership, but the number of attendees to Taylor Lanes would drop significantly up until the 2016 purchase by Life Bridge Church.
Upon visiting, it was apparent the building was showing its age. There had been calls for a refreshment of the interior, but nothing was known to be done. But the majority of the keepsakes were still there. The karaoke bar was absolutely jam-packed and humming. As the evening went on, crowds there to bowl increased until, by the time I left at 9:45, the east wing had the activity of yesteryear. For one brief moment, it was the 1980s again, with the fun, camaraderie and good spirits.
I bowled three games there for old times' sake, and I must admit that even the pins didn't sound the same when knocked down… almost resembled an eerie, hollow feeling to me. By the way, I didn't quite hit my father's lofty 669 series from 1986 on this day – I only did a 444 – but still, not bad for not having bowled in two years. And I must admit: today's kids that are into the sport have talents that my age group didn't have back then. Nine and ten year olds are bowling with power hooks I've never had. They're not just throwing it for the sake of throwing; the technique is there. Bowling is not a dying sport, in my opinion… it just needs more positive exposure.
With the loss of Taylor Lanes comes another ghost in the long line of shuttered centers Downriver. We barely have half the active bowling centers now compared with just thirty years ago, and this loss will be keenly felt. Thunderbowl Lanes might be the most well-known facility Downriver, but Taylor Lanes had a legacy all its own… that no other local facility will ever be able to touch.
---
| | | | |
| --- | --- | --- | --- |
| Barely seen in this image is the old Pro Shop area, which had been closed for some time prior to 2016. | | (Above and left) The old-style locker room between the two wings. Although these lockers are likely the original ones at Taylor Lanes, their looks do not seem to age much in a bowling center. | Bar patrons await the start of the final karaoke contest. |
| | | | |
| --- | --- | --- | --- |
| One of the main display cases near the entrances which would advertise special events. | Front counter activity increased as the evening went on. The staffer indicated disappointment at the pending closure, having spent 12 years there as a bowler and two as an employee. | (Above) Crowds continued to trickle in throughout the evening. (Right) Yes, Yellow Pages are still produced, but they are literally microsized compared with editions printed when Taylor Lanes first opened. | |
| | | | |
| --- | --- | --- | --- |
| Two of these "Save Taylor Lanes" signs were found toward the end of the evening; one outside the east entrance and one inside. | The public gathers to reminisce about days gone by at Taylor Lanes. Many of the attendees did not bowl, but were there to soak up the atmosphere one more time. | A bowler in "attack" mode on the lanes. The background banners still proudly proclaim the Top 5 finishers for the PBA's annual stops there from 1985 until 1996. | This is the snack bar and Pool/Poker Room area, with much of the furniture and fixtures already packed away. |
| | | | |
| --- | --- | --- | --- |
| The snack bar itself. It was not fully stocked, and not visited frequently this night. Much of the activity was centered in the bar and karaoke room. | | (Above) A youngster gets a shot at the pins, with parental guidance. (Left) This sign was found near the east wing, and obviously pre-dates modern cellphone technology by its directives. | The close-out party attracted much of the younger crowd, many of them impressive with their grasp at the skills of the sport. All took advantage of a special 3-game offer for $10, which included shoes. |
| | | | |
| --- | --- | --- | --- |
| Photo showing the connecting corridor between wings. The trophy display case is shown, with the doorway to the snackbar at right. | Karaoke was in full swing by the end of the evening. | Bar patrons gather for one more informal toast to the history and legacy of Taylor Lanes. | The nighttime neon glow shines bright on the facility's second-to-last day of operation. |