THE DOWNRIVER STORY
Part Four: 1981 to 2000
---
McLouth workers unite to disallow more concessions; then a new owner assumes his duties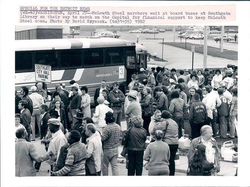 Workers board a Greyhound in Southgate to travel to Lansing in efforts to fight and keep McLouth open, c.1982
In that year (1981), McLouth Steel management would approach its workers with another concession offer: this one would institute a two-year cost-of-living wage freeze. The workers resoundingly voted "no" on this passage as well, although a strike did not occur.
By the end of the year, McLouth reported a $16 million loss, and was forced to file for Chapter 11 bankruptcy, the largest reported Downriver up to that time.
McLouth Steel ended up with a new buyer, a new company name (McLouth Steel Products Company), and new short-term plans in 1982, as Cyrus Tang purchased the company for $46.5 million. A total of 162 jobs would be cut after the purchase as part of a new six-year contract which would require more givebacks by the workers.
---
Governor Blanchard's support helps to save Downriver job placement program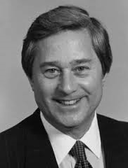 Gov. Blanchard
Althought the stock market would begin to rebound in 1982, along with national economic outlooks, Michigan and Downriver were slower to react to the improvements. The Downriver Community Conference, meanwhile, was continuing to grow, and its job outreach service was seeing increased participation.
By the end of 1982, however, the DCC's job service was fighting for its life.
Wayne County Executive William Lucas attempted to have the county take over the job training program. The attempt would fizzle when Governor James Blanchard, a DCC supporter, gave a March 1983 ruling allowing the DCC to continue overseeing this service, effectively ending Lucas' attempts at a county takeover.
---
More "Big Barrel" sub-projects affect Allen Park
Two months later, a Federal Judge announced Allen Park would need to comply with a ruling to construct a sewer separation system which would aid in the cutback of water pollution. As recently as the early 1980s, for example, the Detroit River was often too polluted to even freeze over during the coldest winters. Allen Park had been looking into alternatives aside from a federal mandate for a few years, but had made no significant progress. Wastewater was still combining with storm water and discharging into Ecorse Creek. The new facility was designed by Wade-Trim Associates. Located near I-75 and Goddard Roads, the building would win awards for its modern design.
Downriver comes up with another steelmaking "first"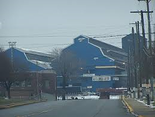 The Ecorse facility today.
Forward thinkers from National Steel in Ecorse made an important July 1983 announcement possible.
The company would spend $200 million to construct an electrogalvanizing line (EGL) and a second continuous caster unit.
The EGL would make National Steel the first facility in the United States to produce continuous coated, rust-proof steel which would be mostly purchased by auto manufacturers.
---
Taylor Schools attempt to navigate a literal minefield in 1983
Heading back to school in the fall of 1983, students and their parents in the Taylor School District faced the possibility of a radical shakeup, the threats of which had not been heard of here before. The school district had major problems for over a decade and had fallen into receivership in the late 1970s. Strikes, picket lines and parent sit-ins were not uncommon. For a brief period, there had even been three superintendents simutaneously on the district's payroll. The newest Superintendent – Jerry Montecillo – was charged with cleaning up the district under orders by State Superintendent Phillip Runkel.
Major cuts would take effect if a ballot referendum were not passed the following February. The ballot requested a 5.4 mill increase as well as approval of a $5.7 million deficit elimination bond. These proposed cuts were perhaps the most radical ever announced in the face of possible failure.
In the proposal – named the "Pack And Save Plan," – half of the elementary schools (9 of 18) would close and students from the three high schools (Taylor Center, Kennedy and Truman) would all be brought together in two groups using one 5-hour shift at one high school. Bus service would also be eliminated. If the proposal was to fail, students would be directed to bring paper bags to their school the next day to pack up their books "for their new education." In other words, failure of the bond would result in immediate consequences.
Fortunately, both the millage and bond passed easily in February 1984. A total of 17,690 residents came to vote, a number 2 1/2 times the amount of any prior failed millage.
Downriver officially recognizes future area ambassador Heinz Prechter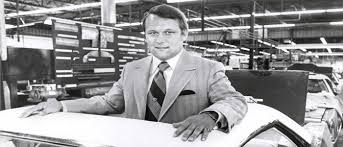 The newspaper quotation perhaps said it best in April 1984:
"Local government and business officials were abuzz in highly optimistic tones following the announcement that ASC (American Sunroof) and the DCC (Downriver Community Conference) have joined forces to promote a major commercial and industrial development along I-75 near Northline."

With that announcement and meeting at the Presidential Inn, Heinz Prechter was officially introduced to the masses on his way to becoming Downriver's greatest ambassador in history. Until then, Prechter had been content to operate ASC, having only purchased two automotive dealerships outside of his core operation. In the initial plan, 400 acres were to be developed into a high-profile office complex which would contain, as realtor Donald Treadwell said, "(a business) focal point."
---
The Korvette eyesore gets a brief reprieve as a competitor to Gibraltar Trade Center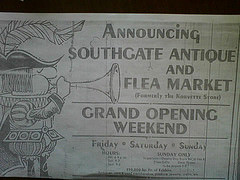 Ad for the flea market which replaced Korvette, c.1984
Four years had passed since its closure, but there was finally some signs of life in the old Korvette City shopping plaza in Southgate with the opening in 1984 of the Southgate Flea Market, taking up the main portion of the first floor.
To this date, there had been some talk about redeveloping the area; one idea involved the building of a new Downriver-based central Catholic High School, which may have combined Aquinas High School (Southgate), Gabriel Richard (Riverview) and Mt. Carmel (Wyandotte). The flea market was expected to be a success and be the first major competition for Gibraltar Trade Center in Taylor. Within less than two years, the flea market would depart, leaving the aging building to the elements.
---
Residents protest Monroe's Fermi II, while cheering the Olympic Torch relay
Under construction for several years south of Wayne County, representatives of the Fermi II nuclear power plant announced in May, 1984 that construction was nearly complete. What would follow would be the first of many waves of public protests over nuclear power. It would still be nearly four years before a kilowatt would be produced, but the idea of nuclear power had taken a hit since the Three Mile Island disaster of 1979.
The Downriver area was the fortunate witness of the Olympic Flame which came through the area on its way to the Los Angeles Summer Olympics in 1984. The route began in New York on May 7 and was due to arrive in Los Angeles in time for the Games' start on July 28. The May 21 route had the torch proceed from the city of Monroe north on Telegraph, then eastbound on West Road, and finally northbound on Fort Street toward Detroit.
Sibley Quarry, Riverview Highlands find themselves under the radar again
Now co-managed by Michigan Foundation Company as well as the Riverview and Trenton municipalities, Detroit Edison's Sibley Quarry was facing increased public scrutiny over its blasting procedures being responsible for increased damage to homes and other nearby personal property. Various petitions had been circulated, and the effort landed a small victory for the residents: a $14,000 professional engineering study to identify the problem's source and cite possible remedies. The study was due to be completed by May of 1984, but the ultimate solution would still be years in the making.
When the Riverview Landfill (a.k.a. Mount Trashmore) began initial operations in 1968, one of the original plans included the burning of methane gas at the site (the landfill formation itself would be the source of the gas). Despite efforts to get this back on track in 1984, they would once again fall short. The contract for extraction originally belonged to Watson Bio-Gas Systems; however, due to internal company problems, the contract was instead let to O'Brien Energy Systems from Pennsylvania. Representatives from O'Brien were determined not to cause further delays, but they would be forced to ask for an extension for startup in November 1984 as a result of McLouth Steel being hesitant to sign off on a customer deal without technical problems being addressed. Riverview was waiting for action, as a possible $13 million windfall could be realized over an ensuing 17-year period.
Meanwhile, police presence was beginning to become routine in Riverview's east end neighborhoods, as a total of twenty-one burglaries east of Fort Street took place in less than a week's time in October. Most of these occurred during the daylight hours, when most occupants were at work.
Pennwalt facility suffers explosion
A gas explosion rocked the Pennwalt facilities on the border of Wyandotte and Trenton on December 21, 1984. Fortunately, no injuries were reported. The problem was traced to a malfunction in a fitting used to transfer hydrogen gas from one housing to another. A contractor for Wall-O'Donnell Gases was attempting to transfer contacts from one tank to another when the explosion occurred. Flames shot forty feet into the air in a blaze that two fire departments would battle for over two hours.
Mazda announces its debut in American-based manufacturing
In December 1984, Mazda officially announced they would be building a new assembly plant just north of the old Michigan Casting Plant, along I-75 between Vreeland and Gibraltar Roads. The $450 million facility would begin construction in the spring of 1985 and represented the firm's first production facility in the United States. Flat Rock Mayor Ted Anders was enthused at the 3,500 job additions the facility would provide. The city would ultimately give Mazda a 12-year tax abatement to encourage the facility's construction and operation.
Not quite "Big Barrel," but progress finally gets underway for better drainage
Ending what amounted to be a 61-year general stalemate among area officials, the development known as "Mini Sewer" finally broke ground on June 17, 1985, following acceptance of minor contract amendments in February and March of that year. The system would service many of Downriver's southern communities including Flat Rock, Gibraltar, Huron Township, Romulus, South Rockwood, Van Buren Township and Woodhaven. The project, stated as being ahead of schedule as of January 1986, was due to have Phase One complete by 1988.
The overall agreement did not come easily, as Gibraltar and Huron Township both balked as some of the earlier amendment proposals. In addition, a group known as FLUSH (Friends Looking Upstream for Sewer Help), led by activist Sarah Jane Privatera, filed a lawsuit in federal court that would challenge the project.
Brownfield designation pays off as South Works facility gets green light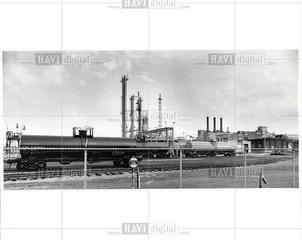 The BASF South Works facility, nearing the end of its productive life in 1980.
Good news for environmentalists rang in 1986, as it was announced a settlement had been reached between the state of Michigan and BASF regarding the long-polluted South Works facility lands south of Eureka Road in Wyandotte. The chemical company agreed to pay the state $290,000 to reimburse local taxpayers for "past and future costs of enforcement and (land quality) monitoring."
This would symbolize the beginning of the end of a saga which had lasted since Attorney General Frank Kelley filed suit against BASF in October of 1983, involving allegations of soil and ground water pollution at both the North and South Works facilities. The south location had been mothballed in whole by the end of 1980. In the proposed consent agreement between the two parties, BASF would be committed to act upon the results of a scientific study of the two sites taken over the past few years. Included in the improvements were the installation of groundwater purge systems in four South Works locations and three North Works locations.
---
Upcoming voter proposal threatens to take Elizabeth Park out of the public domain
At the same time, a News-Herald editorial penned the need for voters to turn down a ballot proposal (in a presumed special election) promoting encroachment on lands surrounding Trenton's Elizabeth Park.
Having originally been deeded to Wayne County by the pioneering Slocum family of Trenton for public use in 1911 (and symbolically dedicated as such via plaque in 1923), the land was threatened to return to its original private ownership due to the county's proposal to construct an amphitheater on site. The initial design called for 1,500 parking spaces to accomodate the amphitheater, which would have taken 65 acres out of the 162 acre parkland. This was defined as encroachment affecting the public trust. In spite of the extra revenue Trenton city officials said the new construction would provide, environmental impact was additionally cited as a concern for the area's well-being (the amphitheater would be designed for higher-level rock concerts, for example). Petitions from seven different communities calling for a retraction of the project were being circulated.
The Allen Park V.A. gets a temporary reprieve; Holiday Drive-In does not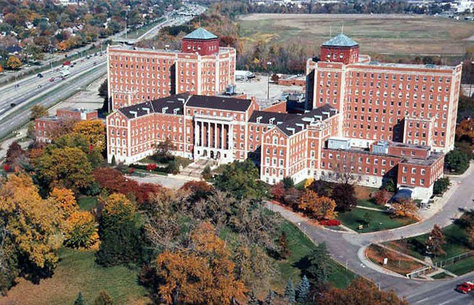 The Allen Park V.A. Hospital in the 1980s. At the time, there were no plans in the works for its replacement.
The end of 1986 would bring good news to veterans & their families, as well as building preservationists: the Allen Park VA Hospital on Southfield and Outer Drive would remain open concurrently with a new hospital proposed for the Detroit Medical Center area. The road to the decision had not been easy, but it would involve spending between $41 and $52 million to help upgrade the 39-acre Allen Park facility, which had been built in 1938.
As far back as 1972, there were complaints the facility had operational cost overruns, and by 1975 veterans staying at the hospital were complaining the building was outmoded. These proposed renovations would result in a reduction of bed space; the number falling from 611 to 420. However, a total of 180 of those 420 beds had been saved from possible relocation to a facility in Battle Creek. The issue of cost overruns, meanwhile, were tied to the need for upgraded staff; namely, specialists to tend to the increasing advancements in technology.
Meanwhile, the Holiday Drive-In on West Road in Brownstown became the second of the five Downriver locations to shut down at the close of the 1986 season, following the 1984 closing of the Michigan in Southgate. Overall drive-in numbers nationally and state-wide were beginning to spiral downward.
---
Ecorse becomes Michigan's first city to enter receivership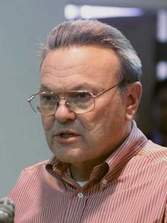 Schimmel made history.
In spite of previous warnings and the knowledge of a deficit approaching $6 million, the December 1986 announcement of Ecorse falling under state receivership made headlines as the first such occurrence in Michigan history.
The emergency manager was Louis Schimmel, who was appointed by Wayne County Circuit Judge Richard Dunne at a salary of $100 per hour. Schimmel would immediately become unpopular with Ecorse citizens with the cuts in programs and routines he would implement in the ensuing years.
Ecorse's deficit could be traced to tax abatements given to Great Lakes Steel Works, in addition to prior political administrations mismanaging money. These abatements had also affected the Ecorse and River Rouge Public School districts.
As the first occurrence in the state, their story would bear watching closely.
---
After brief reprieve, negative balance sheet hits McLouth again
Since the purchase of McLouth Steel by Cyrus Tang a few years before, the steelmaker had seen its fortunes rise (profit in its first year) and sink again, with a $250 million debt by 1987. The workforce, which numbered 3,775 in 1980, fell to 2,000 union and 400 non-union. Negotiations were taking place – talks which would last two years and result in an additional $85 million loss. With Tang having left the company, the new plan forward would directly involve the workers in an employee stock-ownership program. The new marquee at West Jefferson and King Roads would proudly read, "McLouth… An employee-owned company."
Two devastating fires consume local Downriver landmarks
June and October 1987 proved to be heartache for fans of both Mulias & Ellias Department Store, as well as Ciungan's Shrimp House, as both storefronts were ruined by fire.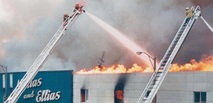 The Mulias & Ellias fire destroyed a true Trenton landmark, one that was on par with the Trenton Grand Hotel up West Jefferson. The store had started in the early 1900s by Sadie Mulias' family, which located from the northern town of Bad Axe. The blaze started on the evening of June 24, 1987 at two different points in the well-stocked basement. Tragically, the fire alarm system was not activated properly to where the fire could have been contained at this point. Alarms rang in neighboring Woodhaven and, according to former Fire Chief Russ Stahl, by the time the responsive trucks got there, the building was pretty well engulfed in flames. With the blaze growing to four alarms, there was a water pressure problem in the neighborhood, so the Detroit fireboat came downstream and acted as a fifth alarm, while quelling most of the raging fire from a distance.
The building – and almost the entire block – was a complete loss. To this day, the cause of the fire is not 100% assured. Most had said it was arson, though some thought it was electrical in nature. Regardless, downtown Trenton would find it very difficult to recover its lost business.
| | |
| --- | --- |
| The Ciungan's fire, October 1987. | Ciungan's was an Ecorse landmark in existence for 39 years at the foot of Southfield near 4th Street, known for their excellent shrimp. A kitchen fire was the cause of this blaze, which gutted the building. The owners would eventually decide not to rebuild in that location. However, one of the best-kept Downriver secrets is that the original Ciungan shrimp recipe is still made on Saturday's at Lloyd's of Grosse Ile. |
Pre-Presidential fireworks in Wyandotte?
Though it would not be as fierce as some presidential conventions of the past, a January 1988 Republican gathering at a Wyandotte restaurant provided some fireworks. Using the facility to name delegates for their upcoming convention, a shoving match would occur between Marvin Bush (the father of then-Vice President George H.W. Bush) and televangelist Pat Robertson. A group of Robertson's supporters were attempting to block access to the caucus site from Bush supporters as well as the press.
Sibley Quarry quietly enters a new era of mining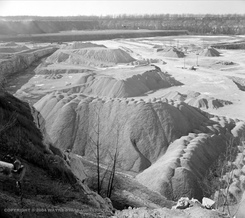 Operations in the 1980s were going much smoother than they were about the time of this photo in 1973.
While the reputation of one location was suffering, the reputation of another long-standing business was doing its best to be repaired in 1988. The Sibley Quarry's operations had been modified once Detroit Edison purchased the facility back in 1951. The quarry was not used solely for limestone processing only; blasting was done as a way to make room for the fly ash Detroit Edison would dump in the quarry. This fly ash was residue which came from Edison's many coal-fired power plants.
Per an agreement with Detroit Edison (the owner of the property), Michigan Foundation (the lease holder) was conducting blast operations on the quarry's northwest end. This is closest to the Fort/Sibley intersection, making it closest to residential areas. Numerous complaints were filed to Riverview City Hall in December 1987 following an exceptionally loud series of blasts, which continued to shake homes as they had for many years. Residents, however, were tiring of the operation.
Desiring to be a good neighbor, Michigan Foundation turned to a new way of blasting that would cut the shockwaves and aftereffects greatly. Each blast was now done in a 3-tier approach. Most importantly was the fact this new method required 30% less explosives per charge plus more sophisitcated blasting caps. In addition, the agreement with Detroit Edison was modified to where blasting the northwest end of the quarry ceased.
Riverview Councilman Elmer Trombley toured the site and mentioned the progress was remarkable. On prior reports of nearby homes shaking during blasts, he admitted, "People weren't making those up." News-Herald photographer Larry Caruso attended a sample blasting operation and said he could see and hear the blast, but did not feel it. This "new attitude" by Michigan Foundation began to make amends with its neighbors as the blasts were now just a fraction of what they were.
---
Bankruptcy of Gilead Baptist Church makes headlines

Gilead's problems came after the congregation moved from their Allen Park facility.
Bankruptcies appeared to continue scattering around Downriver, but perhaps no outsider would have thought a church would have been among them. Indeed, in November 1988, Gilead Baptist Church in Taylor filed for Chapter 11 protection, bringing to life a very difficult situation involving two ministers and their congregation.
In a situation somewhat likened to a scandal yet to bring down Jim Bakker and his PTL television empire, the leadership of Gilead had begun over-reaching in their goals. Initially located where the Allen Park City Hall currently is, Gilead had recently found new church grounds on Telegraph in Taylor with ample room for expansion. Eventually the church, under the leadership of Rev. J. Thomas Downs, would purchase acreage in Florida to build a mobile home park, built a high-rise nursing home south of the church, and purchased a nearby motel in the hopes of wiping out prostitution and other "sinner" activities taking place there.
For these projects, mortgage notes were issued to Gilead, who put their church assets up as collateral. However, due to one circumstance or another, the majority of these plans fell through and would prove costly. Defaults began and lawsuits were filed to begin recouping money. Rev. J. Thomas Downs would be accused of wreckless financial dealings, chief among them was asking his congregation for monetary donations, knowing full well the resulting transactions would be risky. Nearly two dozen church members would leave the membership as a result.
---
Memorial Day 1988: Writing on the wall for Bob-Lo Amusement Park
BOB-LO ISLAND
Five months before pastorship changed hands at Gilead, Memorial Day 1988 would prove to a be a dark day for the future hopes of Bob-Lo Island.
Attendance had steadily been declining since its peak of 800,000 annual visitors in the mid-1970s. Having changed hands two more times since Todd H. Browning first sold off the assets in 1979, a marketing error would prove to be nearly tragic, and would make the road to recovery for the amusement park extremely difficult to achieve.
Ticket packages were sold to two Detroit Public Schools, who had rival gang factions. The salespeople were not aware of this, and were criticized for their short-sightedness once events had occurred. After a routine boat ride to the island, it became rowdy throughout the morning and afternoon; fights involving knives and unconcealed firearms were commonplace. The Ontario Provincial Police would dispatch twenty officers to help restore order and prepare the returning boats for loading.
Once off the Bob-Lo dock, the fights would resume, concessions would be looted and boat equipment would be tossed overboard. Approaching the Detroit dock, the crowd rushed to jam the exits and stairways. Finding their path to the exits on the Ste. Claire blocked, its crowd would rush to the port side, nearly listing the boat over. Upon arrival to the park the following day, all the fencing at the dock was found ripped out, and had to be replaced. The resulting media coverage would end up dooming the prospects of the attraction.
By October 1988, Pastor Thomas Downs replaced his father as minister of Gilead Baptist Church, still reeling over loan defaults and possible lawsuits. He began warning the congregation of possible bankruptcy if donations did not increase – the entire church budget was reliant on these contributions. He also informed creditors – which by now numbered in the hundreds – that the church needed time to restructure properly. The opposite effect would occur as this would bring even more creditors to the table, demanding more money.
Eventually, the church was said to have held $5 million in second mortgages and promissory notes. The United States Trustee office requested that Pastor Downs step down. Federal Courts believed the younger Downs knew about his father's dealings, and continued with them upon his father's retirement.
---
Looking towards the 21st century: New name, new routes…
By then, a committee was formed in an effort to rebrand the Downriver area under the new, unpopular title of Metro Shores. "Vision 21" spokespeople insisted the area needed an image refresher away from the factories and industries of the past, and felt a name change would provide new insight into the area's present and future, while eliminating supposed negativity. None other than "Mr. Downriver" himself, Heinz Prechter, was akin to changing the name. "There is a 'down' connotation some have to Downriver," Prechter would say, "(and) it's a campaign to show we're 'up' with Downriver." The area of Metro Shores would have encompassed a larger area, adding Belleville and Sumpter Township to the classification.
In November 1988, several years of study came to an initial close at the Presidential Inn in Southgate. The meeting was presented by the Southern Wayne County Chamber of Commerce. Hosted by Robert Adams, the deputy director of transportation for M-DOT, it concerned the feasibility of constructing a new east-west route further south from I-94 to better serve central & southern Downriver.
But the overall news was not too good for supporters. Of seventeen possible sites identified for a major thorofare (which ideally would connect with I-275 to the west), four were labeled probable: Eureka, Pennsylvania, Sibley and West Roads. Adams stressed that the actual planning for a road of that stature could take up to five years, with construction taking another three. Ninety percent of the transportation budget was used for roads already in service, and no concrete plans were allowed for new projects critics might have labeled unnecessary.
"One of the things the government has to do is protect us from ourselves and itself," Adams would state at the meeting. Other causes of delay were an exhaustive series of studies, and "red-tape" hurdles which were increasing in number. Yet, he ended the meeting with the message that the project was "ongoing, underway, and will be completed in an orderly fashion." It would also be announced at the meeting that the possibility of a second Bridge to Canada construction project was looking bleaker – if it would even take place at all.
A tragedy hits Wyandotte and Downriver: Lawrence DeLisle
LAWRENCE DELISLE The normally quiet community of Wyandotte was jolted by a vehicle jumping off Eureka east of VanAlstyne and sinking into the Detroit River in June of 1989. Recovered alive from the sinking vehicle was Lawrence DeLisle, husband and father of four. Only he and his wife survived; his deceased children would be recovered later.Despite initial claims of a leg cramp surfacing as DeLisle crossed Biddle Avenue, it was dismissed by investigators. The subsequent trial revealed DeLisle as a broken man drowning in debt, wishing to end the lives of himself and his entire family to lift self-guilt. Although defense attorneys argued vehmently that his Ford LTD was defective, a jury found him guilty of murder after a nine-hour deliberation. DeLisle ultimately appealed this decision. The U.S. Supreme Court would uphold the lower court decision would be upheld, and the 28-year-old DeLisle would spend the rest of his life behind bars. The PSI discoveries begin: Downriver's version of Love Canal

The children. "I didn't mean to
hurt my babies."
– LAWRENCE DELISLE
| | |
| --- | --- |
| One of the abandoned industrial buildings on the PSI site bordering Brownstown, Flat Rock and Woodhaven; photo undated. | Twenty-five years after the closure of a small oil refinery on Brownstown's south end, a Michigan Department of Natural Resources examination of the Peters Road property unearthed nightmares not unlike those witnessed by residents of Niagara Falls, New York and the nearby Love Canal, which most likely inspired the modern environmental movement.Petroleum Specialties Incorporated (PSI) owned sixty acres of land near the triple borders of Brownstown, Flat Rock and Woodhaven. Right across Peters Road by a block was the expanding Deerfield Estates trailer park. Residents of Deerfield resembled their counterparts in New York in various ways, meaning they had no idea the conditions on a neighboring |
property were more toxic than those found earlier in the decade at the BASF South Works property, for instance. PSI had been an active oil refinery from sometime in the 1930s until 1964. Upon ceasing as an active refinery, it became a storage facility. Evidentally, the land was tossed aside as a figurative afterthought since at least the early 1970s, as the conditions found by the M-DNR were repulsive enough.
The inspection took place on June 15, 1989. Inside were a total of 38 bulk tanks, enough to handle 17 million gallons of oil… provided it stayed in the bulk tanks. The M-DNR found an open lagoon of petroleum, high PCB counts in the soil, asbestos construction material, leaking electrical transformers, lead, arsenic, cyanide, benzene, and rotting storage drums containing Xylene and Toluene. A suit was filed by the M-DNR immediately after this inspection, with a hoped-for answer coming quickly from the property's owner. In the meantime, all nearby residents could do was be patient for progress. Undoubtedly, this was not accomplished without a great deal of fear.
Southwestern Taylor gains unfortunate notoriety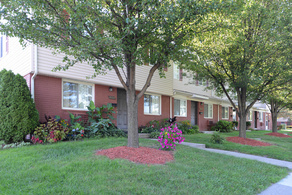 The Courtyards of Taylor today. In the late 1980s, it was the subject of much police attention.
Beginning in the early 1980s, the southwestern corner of Taylor was gaining a less-than-sterling reputation as a haven for the drug trade. No less than five different condominium facilities were located within a one mile stretch of land. Of all of these it was Pine Ridge (the westernmost complex) which garnered the unfortunate nickname of "Crack Ridge" due to the involvement of the activity. On some weekends, 60% of overnight police runs would be to this complex, and the situation would slowly worsen as the decade wore on.
The most tragic incident during this timeframe was undoubtedly the assault on 19 year-old Kristin Grauman in 1989. Walking near the complex at night, she was picked up by two men who had been involved in an earlier run-in at Pine Ridge, and seeking drug purchases in the Inkster area. Grauman was to function as their guide, but when they intentionally over-ran their destination, she became fearful. In the ensuing assault she would be doused in gasoline and set afire by the criminals. Grauman would survive in a heavily disfigured state, but would bravely take the stand in the men's subsequent trial to explain the happenings that evening. Grauman would be lauded for her courage and determination, and the men eventually were handed heavy sentences.
Despite this being a wake-up call to the community, it seemed the activity would continue to rage on at the same pace as before.
---
Patrick Henry Middle School students experience high school life ahead of time
One of Woodhaven's newer schools was opened by 1977 on Hall Road south of West Road. Patrick Henry Middle School was lauded at that time for being one of the most up-to-date buildings in any Downriver school district. The honeymoon would only last a few years, as by the late 1980s, the building faced possible closure and demolition due to serious structural defects.
On January 10, 1990, middle school students were to start a liberally different school day at Woodhaven High School, while Patrick Henry would shutter in an unanimous vote by the school board. High school students would be affected to a tremendous degree, as well. The ninth through 12th grades would now dismiss from the facility at 12:30 PM. Middle school students were now literally afternoon shift learners, beginning their day at 12:35 and concluding at 5:45 PM. Lunch periods which were originally 32 minutes in length were shortened to a 15-minute "nutrition snack break." The school would no longer provide lunches, but would still supply free milk for the students. In spite of the lessened classroom time hours, it was decided not to extend the school year to compensate.
"The building is unsafe for occupancy and the only good news, if there is any, is that action was taken before any further damage could be done."
– ED LAUPMANIS
Architect: Laupmanis & Associates "Why don't we put the desks in that atrocity we call the WonderDome?"
– FRUSTRATED PARENT
Upon further examination of Patrick Henry's exterior and infrastructure, the news was worse than originally estimated. Testing of five panels of brick taken from the exterior showed extensive cracking, plus water penetration bleeding through to the interior drywall. Individual bricks and mortar were dislocated by as much as 3/4 of an inch, support beams were twisted, and vertical walls were leaning. Bracing the walls was an option, but would cost the school district $500,000, while not being guaranteed as a long-term fix.Virtually all parents and other members of the district agreed the School Board did the right thing by shuttering Patrick Henry. Their main concern involved the strained schedule at the high school facility.
Parents argued that the former Brownstown Middle School on Inkster Road would not only alleviate overcrowding and peer pressure among the different age groups, but return school and bus schedules to normal. That school had been constructed in 1979, but had never been used as a school; it had spent much of its time occupied by the Army as a small training facility.
At that time, possible legal action against the original designers and contractors of Patrick Henry was being considered as an option.
Downriver's Domes: WonderDome blown away; "Dome on The Rock" threatened with shut down
WOODHAVEN'S WONDERDOME
Less than two years after its delayed opening, the era of the Woodhaven WonderDome would come to a sudden close thanks to Mother Nature. A January 25 windstorm struck Downriver around 1:00 that afternoon and would last into the evening, with some wind gusts clocked at over 66 MPH. begin to give out three hours into the storm, with its outer skin ripping off at the north end starting around 5 PM. Two evacuations of the facility were required; the second of which would witness the dome's deflation and a subsequent closure of southbound I-75 for safety reasons. Initially termed a disappointment but gaining business after its first year there, the loss would prove to be irretrieveable.
Another notable dome recently built would also find its way into the news in the spring of 1990. Since announcing initial plans in the late 1980s, New Life Christian Church had been constructing a new church and school structure on the site of property they owned at Pennsylvania & Trenton Roads since the 1970s. The artist rendering of the project showed two domes surrounding a central building.
---


Artist's conception. This project would never see its completion.
To this point, only one dome had been constructed: the school dome, which was temporarily serving as church quarters. This, however, was falling well short of required building codes, and the church group (whose new name was "Dome On The Rock") was facing a possible jury trial, set for May 18.
Among the violations were zoning issues, accusations of the church tearing down stop-work orders posted by the city, and no working sprinkler system… all unfit for school use. The church pastor, C.L. Johnston, refuted all accusations, saying he was anxious to work with the city to ensure the complex's completion. He also pointed to a $1.5 million loan promise from Texas-based Trust Company of America (for the construction) that had unexpectedly dried up.
---
| | |
| --- | --- |
| The Fort (George) awaits demolition, c.1991 | The Jolly Roger and surrounding neighborhood, c. late 1980s |
The year 1990 would also bring the official end of an era, as the last two drive-in holdouts – the Fort in Southgate and the Jolly Roger in Taylor – closed their doors. Much of the charm of the experience had diminished, as indoor movie houses were beginning to drastically improve their offerings with clearer pictures, crisper sound and (in a few short years) the debut of stadium seating, which would virtually eliminate sightline distractions. Combined with a lack of concern for weather conditions, plus a less rowdy crowd in general (indoor theaters were easily more patrolable), drive-ins would become a mere novelty of the past.
The closing of the Fort was initially attributed to a drop-off in business, though many local residents claimed a windstorm (perhaps the same one which destroyed the WonderDome) damaged the screen to the point where it was not considered wise to rehabilitate. Those still desiring the in-car movie experience would need to visit the Dearborn-based Ford-Wyoming Drive-In, still in business today.
Worst rainstorm since 1980's Green Storm hits Downriver communities with force
| | |
| --- | --- |
| Traffic signals were downed at Fort Street and Cedar in Wyandotte. | Miranda and Nathan Romo enjoy the flooded streets near Keppen and Larme in Allen Park. |
A major rainstorm hit Downriver on September 6, 1990, and was called by many the worst storm of the past decade. This storm drastically affected southeastern Michigan, with 50,000 customers in Wayne and Monroe Counties without power, with approximately 10,000 lightning strikes and over four inches of rain in places.
"I was just going all night long.
You couldn't stay ahead of it."
– GERALD PERRY
Public Works Manager, City of Riverview
Brownstown Township was one of the hardest hit, as the community reported twenty-five reports of downed wires, concentrating on an area of Telegraph between King and West Roads. Ecorse reported severe flooding underneath the railway viaducts on Outer Drive and Southfield Road. The loss of power shut down operations at the West Jefferson Treatment Plant in Detroit, forcing facilities to work harder.
Near Grosse Ile, 1.3 million gallons of partially-treated water was released into the Detroit River; the island community also had 50% of its residents without power.
A rain gauge set out by Riverview DPW Director Gerald Perry alleged six inches of rainfall in that community. Various residents in Romulus would go powerless for up to four days. Flooding was a concern in Trenton as 500 sandbags were ordered placed around the Frank & Poet drain to protect fifteen houses in the adjoining neighborhood. Wyandotte's power supply interruptions, although limited to 30 minutes at a time, continued to occur in cycles through the night.
New and more serious rumblings on the horizon for possible split of Wayne County?
ERIE COUNTY PROPOSITION
"I've done a lot of research on this and there is a lot of support. We're just forgotten down here. Nobody ever looks to
Downriver unless they want a place to
dump their garbage,run their sewage, or collect taxes."
– NORMAN CHINAVERE
Petitioner for Secession
Since Taylor had become a city in 1970, there had been no geographical changes Downriver from a map's standpoint. However, two men thought the need to change that for the benefit of area residents who were quietly complaining about poor quality services provided by Wayne County. Their proposal would be to divide Wayne County into two counties; Erie County being the new one that would result.
The proposed county split, according to organizers Leonard Mannausa and Norman Chinavere, would "move (Downriver) communities from the shadow of Detroit," and would help ease residents' complaints that they were paying more in taxes than nearly everyone else — yet received fewer services in return.
The original proposal was sent to State Representative Vincent Porreca in May of 1991, with the request that the issue immediately be brought in front of the State House. To the frustration of Mannausa and Chinavere, Porreca announced the proposal out of "courtesy" only, and that he did not intend to sponsor it. The idea was not totally dead: it was referred to the Towns & Counties Committee. Roland Niederstat (D-Saginaw) officially KO'd the effort by saying the bill would go nowhere without input from Wayne County Executive Edward McNamara and the Wayne County Board of Commissioners.
Bob-Lo Island officially ends 170 combined years of Detroit River steamer service
| | |
| --- | --- |
| A full Ste. Claire boat in busier times. | The end of an era occurred on Labor Day 1991, as the Bob-Lo boats Columbia and Ste. Claire were officially retired after 89 and 81 years, respectively.Attendance in the park had plummeted to under 300,000 for the first time in decades, nearly 60% lower than during its peak years.From this point to its end, visitors to the park could only be ferried over from the Amherstburg boat dock, or people would need to drive over the border crossings to Canada. |
Riverview gets national exposure on "20/20"
| | |
| --- | --- |
| Waste had a different, cleaner connotation in Riverview, however, and it was because of such that the city would get its best national exposure to date in January 1992 thanks to the ABC-TV program "20-20," which aired a special on Riverview Highlands and its metamorphosis to a ski hill facility & golf course. The segment was titled, "The Town That Loves Garbage," detailing the amount of revenue the hill was grossing, in addition to likening Riverview City Hall's looks to the United Nations building in New York City. Mail would come pouring in to City Hall; much of it complimentary, with many questions from as far as California asking how the city made the facility work. "We're just doing our thing," Mayor Peter Rottveel told the News-Herald. Due to the volume of calls, the city asked callers to write & mail in their questions instead. The prior year, cable channel CNN had done a story on the facility; later in 1992 a production team from the Australian version of "60 Minutes" would stop in for a look and story, since such a landfill operation was illegal in Australia. | Likely a "frame capture" from a locally-produced TV ad on Riverview Highlands, produced approximately 1990. |
On January 2, 1992, it was announced petitions had been sent to the Michigan State Board of Canvassers in an effort to restart talks toward a split of Wayne County into two. Led primarily by Leonard Mannausa this time, the original goals from May of 1991 were the same. A group called Patriots For Erie County were among the biggest boosters in an effort Mannausa said would succeed this time. "In the 84th County," he said, "people will have representation for their taxes… a new government that will be for the people."
But the possibilities faced a long, arduous climb. The law would need to be amended: specifically, the Michigan Boundary Adjustment Act of 1974. Only then could a petition see a valid chance of succeeding. A total of 205,166 valid signatures would be required within a 180-day period. From there would come signature validations from the Secretary of State. If that was passed, it would then go to the State Legislature for their decision.
The last vestige of the former Ford City vanishes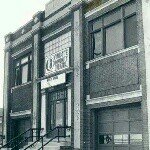 Decisions are never easy. The decision made in January 1992 to tear down the old Ford City building – 992 Biddle – was done with some regret, but was deemed necessary due to possible structural fail. The demolition of this building would officially wipe out all real-time visual existence of the former Ford City.
Built in 1916 at a cost of $30,233, it served as the city's firehouse, prison, municipal chambers and city offices. Upon Ford City's annexation by Wyandotte, the building became a firehouse until 1970, when the Wyandotte Community Theater began renting from the city for $1 per year. It was not in the budget to find $233,000 to bring the building up to code, so hopes for an art gallery & apartment complex had to be dashed. The building was on the Michigan Register of Historic Places, and the State would have to be informed of the city's decision before demolition could take place.
The cornerstone of the building still stands – encased in brick – at the site on Biddle & Goddard.
---
Badly-needed sound relief forthcoming for the neighbors of Metro Airport
| | |
| --- | --- |
| As part of a Master Plan strategy formulated in 1989, Detroit Metro Airport was well on its way to addressing the key concern and main complaint from nearby residents about the excessive noise made by the aircraft while taking off and landing. The original Master Plan assumed a 4.8% growth rate year-to-year, estimated total passengers peaking at over 22 million within the next 15 years. It was also at this time that new structures would begin to appear; notably the new control tower at the center of the airport grounds by 1991, which the FAA would begin using in 1992.Despite the progress, residents had been even more concerned about the noise levels since southbound air traffic had been increased as part of a May 1991 plan by the FAA to study flight patterns at DTW. This had been done to address earlier noise concerns poised by nearby Dearborn residents. Downriver residents in the affected areas would show up in high numbers to a series of public hearings throughout the year. The organization People Limiting Aircraft Noise (PLAN) would eventually file suit against the FAA for the initial flight pattern changes which occurred in 1989, claiming the agency did not take environmental concerns to heart. Many aircraft engine tests had also been taking place outside of aircraft hangars, in areas which did not feature tall berms or other noise-altering equipment.Finally, in November 1992, residents of Romulus and Huron Township received word that the county would invest $750 million in noise abatement, soundproofing, and property value guarantees for the affected residents. | The opening of the new control tower at DTW ushered in a new age of airport expansion, but with increased noise potential. |
While this was not guaranteed to completely solve the problem, the sale of bonds would be a start toward relief, although the possibility of a lawsuit – to be filed by primary air hub Northwest Airlines – appeared a possibility.
McLouth gets potential second lease on life with Governor John Engler's assistance
Meanwhile, the struggles at McLouth Steel were continuing, but would finally receive the attention at the state level. Michigan Governor John Engler commissioned a blue-ribbon panel in 1993 that would allow the steelmaker to partner with Thyssen Steel, and also awarded the company $5 million in a loan package. The partnership would last a little over a year before McLouth became interested in coming up with their own in-house solution to their financial difficulty.
Since at least 1989 there had been rumors of land along Wyandotte's North Drive being contaminated with chemicals. In the summer of 1993, earthen substances were officially discovered, and plans were made for complete cleanup of the soils, including placing the overall site onto the EPA's National Priorities list. Originally described as Prussian Blue, a highly toxic chemical compound, both a later study as well as the EPA's own survey classified the pollutant as cyanide. The cleanup would be ongoing in the neighborhood for several years to come.
1993: "Korvette City" meets the wrecking ball at last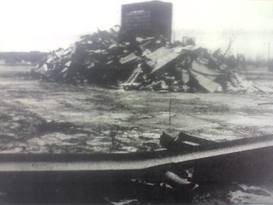 Korvette meets its demise.
Ever since the closure of the second-generation Chatham store in the late 1980s, the former Korvette City Shopping Center in Southgate stood forelorn. The city was anxious to get the complex processed through their Dangerous Buildings Board, as holes in the roof provided access to squatters, who had set up living quarters and skateboard ramps. Many small fires had been set in the store over time, and metals of most every valuable type had been stripped. Electrical components were laid bare, even though power to the building still had not been cut the entire time.
Finally in 1993, approval for demolition came through, and dismantling of the huge structure commenced that summer, starting with the west (Chatham) end of the building. The demolition was well publicized and occurred gradually, providing people with a time-warp glimpse into the second-floor Korvette offices, still decorated as they were in the 1970s. Once demolition was completed, the property would remain vacant until plans for the area's second Super K-Mart were approved.
---
The Bob-Lo era ends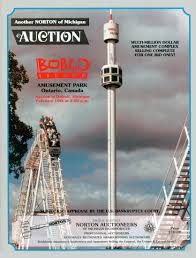 Rarely-seen flier advertising the auctioning of Bob-Lo wares, 1994
After 95 years in business, Bob-Lo Amusement Park's final day of business would be September 26, 1993. Residents (and even the new ownership, led by investor Michael Moodenbaugh) did not know this at the time, as plans were still in the works for a full 1994 season, complete with park refurbishments.
In spite of the Detroit and Wyandotte docks no longer providing access to the island, the ownership felt that numbers would go up following the improvements.
Moodenbaugh had entered into a partnership to keep the amusement park afloat at least the following two years. But before any of his efforts could get off the ground, he would be rendered immobile due to a serious auto accident.
His minority partners, who did not approve of the amusement park idea that Moodenbaugh championed, took advantage of Moodenbaugh's incapacity and – in effect – doomed any chance Bob-Lo would have survived as an amusement park any longer. Within a couple months, a date for auctioning off island wares was set and publicized.
An era was definitely on the way out.
---
The Comeback of the Sibley Quarry goes one step further with the official "All-Clear"
An inspection of the Sibley Quarry was carried out from February 22-24, 1994, to check on any leftover radioactive pollutants which may still have laid in the area. The result was favorable as the quarry, as well as an additional site in Trenton and two former sites in Detroit, were all clear of contaminants. This inspection was necessary due to the July 11, 1958 quarry explosion in which sodium ash (as part of a two-year testing project in conjunction with the Fermi I nuclear power plant) became airborne and struck residents and homes in the nearby area. Seven had been injured and over 40 reported problems with contamination that July.
An Elizabeth Park tradition is jeopardized, then saved
Pony rides had been a staple at Wayne County's Elizabeth Park for nearly 60 years but, in May of 1994, it was reported the attraction could permanently close due to the advanced deterioration of the barn and stable on the grounds. The attraction's operators, Bob and Jane Luton, had 24 ponies, six carriages, six wagons and a goat which were utilized at the park. Supporters of the owners said that despite the apparent conditions, shutting down the pony rides was senseless. Relief would come a short time later by Deputy County Executive Mike Duggan, who declared that any foregoing issues regarding the property would be handled through future, appropriate agreements.
Wife of Detroit Tiger hero "strikes out" in the mind of pageant contestants


Stacey Fielder
The Trenton Theater hosted the Mrs. Michigan-USA Pageant in 1994, which was won by Stacey Fielder, wife of then-Detroit Tiger slugger Cecil Fielder.
This was not without controversy, as three competing contestants would sue the pageant coordinators, claiming that, due to Mrs. Fielder's celebrity status, the entire contest was thrown. Those contestants, whose names were not given, were able to get a Municipal Judge to hear their case, but it would be thrown out, with the trio branded as "sore losers."
Later in the year, Mrs. Fielder would place runner-up in the national contest.
---
Flat Rock Mayor Richard Jones faces recall attempt
Richard Jones, who had been mayor of Flat Rock since the early 1990s, was facing a recall petition being circulated by city residents Martha Paquette and Alfred McEnhill. The petition garnered 743 signatures, which were validated by Wayne County, resulting in 690 final signatures. This was well above the 556 required to place the issue further into the process.
The recall attempt stemmed from an incident on July 21, 1994, which found Mayor Jones driving "while impaired," and thereby "failing to faithfully represent and ignoring the safety and welfare of the people of Flat Rock." The County Board of Elections would forward these signatures to City Clerk Thomas Burbo, Jr., who would then have 15 days to validate the signatures with the city's registered voter list.
Marathon refinery strike enters its third month
Striking Marathon workers John Cross (left) and Mike Nemeth stand in front of a Depression-era shack while protesting working (safety) conditions at the refinery, circa 1995.
In November 1994, workers at the Marathon Petroleum refinery in Detroit / Melvindale went on strike to protest working conditions, which they claimed resulted in several near-miss accidents. According to the striking workers, many of these close calls were due to overwork from an updating program the facility had undergone since the summer. Many workers had to work upward of 45 to 60 consecutive days, with additional overtime included.
According to representatives from Teamsters Local 283 in Wyandotte, some of the duties performed by the workers under these conditions were unsafe by themselves. Company management would deny this, saying the facility had just completed its second consecutive accident-free year. Local 283 countered by saying that statistic was misleading, and that company supervisors would take injured workers to the site, whether they could work or not, in order to keep that claim valid. This was stated as the only reason for the strike's ongoing condition; they were not concerned about wages.
Positions at Marathon were being filled on a temporary basis by management personnel from other refineries in Illinois, Louisiana and Texas. By January 1995, management and the local had met a total of 28 times since the start of the strike, but to this point, there was no resolution in sight.
---
The K-Mart legacy takes a 90-degree turn Downriver
| | | |
| --- | --- | --- |
| The original logo for the Super K-Mart chain began in 1991, and debuted Downriver in 1995. DOWNRIVER K-MART PHOTOSTORY | Beyond the billboard in the center of the photo would lie the new Super K-Mart, opened for business in 1994. | This News-Herald ad, dated January 1995, explains to the reader the differences they would encounter at a Super K-Mart. |
For nearly 30 years in its several Downriver locations, K-Mart did not change a great deal other than periodic, necessary building upgrades. Its first major rebranding came in 1990, as the long-time red & turquoise logo was retired in favor of a red "K" with a script "Mart" inside. The following year, a new super-store concept debuted in Medina, Ohio. It would take four years before the Super K-Mart Center would make its Downriver debut, erecting a new building at the corner of Dix-Toledo and Emmons in Lincoln Park. It would open by late 1994 and represented the second time the chain attempted to combine grocery operations with their general hard-good business. This venture would initially become much more successful than the aforementioned K-Mart Foods chain in the 1960s.
With the ushering in of a new style of K-Mart, the old guard was being phased out. In the same edition of the News-Herald that the "What is a Super K-Mart Center" ad (pictured above) ran, another half-page advertisement drew attention to the original two K-Mart stores Downriver: Melvindale and Southgate. The year 1995 would begin with these stores becoming "Clearance Centers," advertising 75% off all merchandise (with the exception of house paints) in its final week. The last day of business for these two locations would be January 9, 1995.
Deepwell Injection Port: It's off again… now it's ON again…?
The drive to place a liquid waste injection well in the Downriver area appeared to be given up for dead at the start of 1995. Both the EPA and the Michigan DNR had given basic site approval for the well, which at the time was still locating near Northline & Wahrman Roads in Romulus. However, preparations were halted when zoning ordinances were disobeyed. A general compromise could not be reached, so the matter would end up in the hands of Wayne County Circuit Judge Claudia House Morcom. Her ruling placed the onus for the ultimate decision regarding the $6 million facility on the city's Board of Zoning Appeals. In April 1995, the board ruled that Environmental Disposal Systems (EDS), the proposed operators of the site, could not have the Northline/Wahrman location, since it was not zoned properly.
This came as a delight to members of the group Romulus Environmentalists Care About People (RECAP), but their jubilation was short-lived. EDS would move its efforts to another site nearby, with revised plans including the burial of a 2,900 foot pipe to connect the processing center to the actual well. This was also voted down by the Romulus BZA. Once again, it looked as if the issue was laid to rest for the long term.
The closure of Taylor Center High School is announced, not well-received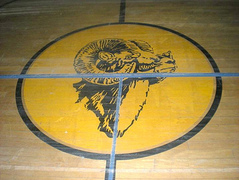 The Taylor Center Rams logo at center court in the gym, several years after the school closed.
Meanwhile, citing under-enrollment, the Taylor Board Of Education voted to shut down Taylor Center High School at the close of the following school year (1996-97). Students would be dispersed between the other two high schools in the city: Kennedy and Truman. Parents of Taylor Center students were incensed and put a petition forward to recall school board members. Wayne County would toss out the petition, however, claiming that it "lacked sufficient clarity."
Parents of Taylor Center students weren't the only incensed people Downriver by July of 1995. They would be joined by many others thanks to the immediate after-effects of a newspaper strike between the Detroit dailies. Violent acts were at a fortunate minimum, although extra police patrols were assigned to the newspaper distribution center on John A. Papalas Drive in Lincoln Park. In the first week of extra safeguards, the Lincoln Park police turned in a $7,500 overtime bill.
---
A Trenton landmark and part of a Downriver institution begin to fade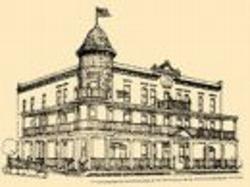 Trenton Grand in its early days.
Time appeared to be running out for the owners of the recently-restored Trenton Grand Hotel, and it would close in July of 1995 as property taxes were not kept current.
The owners, C&P Inc., initially enjoyed success after the $1.8 million renovation and restoration to a Victorian theme in 1991.
The building ended up for sale when a planned conversion of the restaurant to a sports bar fell through. Co-owner Carl Pelino admitted he would be willing to "hang on" to ownership if he could find another business partner to manage that part of the facility.
---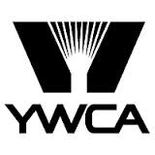 It was also announced in July 1995 that the Downriver YWCA would be ceasing operations due to several quarters operating "in the red."
While membership and monies were depleting quickly for the YWCA, the YMCA was seeing the reverse effect with increased membership numbers.
Overall operations would not be affected at the Wyandotte location, and the YMCA would pick up some of the former YWCA's specialty programs.
---
Downriver recreational landmarks begin reaching a crossroads
| | |
| --- | --- |
| Riverview Mayor Pete Rotteveel stands atop the former ski hill just after its official 1995 closure. | Detroit Dragway scene in its later years. A succession of less-than-ideal owners wreaked havoc on the facility's condition. |
The fall of 1995 would bring a reality check of sorts to recreational opportunities Downriver. In October, Riverview announced that ski operations at Riverview Highlands would cease. The hill had stayed open despite repeated recommendations by city officials that it was too much of a budget drain. One alternative included closing down all operations for two years in order to extensively renovate. The less costly option would be the one chosen: a tubing and tobogganing operation, which would begin in the winter of 1996.
Also in October, property owners of the Detroit Dragway in Brownstown announced the entire parcel of 230 acres, plus surrounding lands, would be put up for sale. The propsects for a 1996 racing season were guaranteed; however the attempts to keep the facility functional beyond that did not materialize. Negotiations with the National Hotrod Association accomplished nothing, and the association added to the woes by attempting to bring third-party management as part of their plan. Residents of the newly constructed Crown Pointe Condominiums nearby were also complaining about noise. The new proposed uses for the property were of mixed use and distribution.
Despite a clear vision by McLouth Steel management and a commitment to improvements across the board, the story continued to sour, as numbers for 1995 were not promising. The workforce had fallen to 1,200 union and 150 non-union. Assets were declared at $136 million, with liabilities noted as $360 million. The firm was therefore left with no choice but to file for Chapter 11 bankruptcy for the second time in twelve years in September 1995.
The Detroit News and Detroit Free Press newspaper strike kept going into the winter months of 1995, but Downriver was still being spared some of the uglier incidents. One notable exception came in December as the Southgate Police received report of six bombs possibly being held in that city's distribution facility. Fortunately, a search revealed these to be "dummie" bombs to be used in a training exercise.
New site staked out for the controversial waste-disposal well in Romulus
Environmental Disposal Systems (EDS) had spent time and effort since the summertime to find another site for their liquid waste-treatment facility, and by December 1995 announced the site: Citrin Drive in Romulus (near Inkster and I-94), which was already zoned for their purpose. There had been no change in the status of approvals granted by the EPA and the Michigan DNR. Once again, the company was a small series of moves away from making their wish a reality. Tempers began to noticeably flare among nearby residents, as well as various Taylor city officials.
Bitter news would hit McLouth Steel workers in February 1996, as management put forth a 23.5% pay cut. Unlike former refusals or strikes which took place in the 1980s, this pay cut request did pass – though barely. Meanwhile, Maurice Taylor put in his second official bid to purchase the company, which was also entertaining bids from Titan Steel and Ispat International). The offers did not materialize, and production at the Gibraltar and Trenton mills slowed to a crawl by March. Creditors then hopped in and stopped production altogether. Possibilities of a third offer were stalled by suspended talks in April. When talks resumed, a new potential buyer from Akron, Ohio entered the picture.
Big plans for the complex were announced, although they involved a possible liquidation of the company. Deemed "less than expected," an auction for potential buyers was announced in June. Maurice Taylor, with his third attempt, was among the parties interested. Then an offer for $1.8 million in emergency financing was announced; a deal which the Downriver Community Conference bungled and eventually lost mid-month.
Could Riverview set another trend by owning a Bob-Lo boat outright?
Riverview residents were enjoying the possible honeymoon dream of purchasing a Bob-Lo boat in the spring of 1996, as the city was hoping to get in on the expected auction of the Columbia and Ste. Claire steamers, which at the time were property of the Federal government. Wyandotte's Portofino Restaurant had purchased the smaller ferry Friendship in 1994 only added to the enthusiastic possibilities. The attempts would be for naught, as the steamers were instead sold to a group of private investors (heritage foundations) who would be charged with restoring the boats to their former, grand splendors.
County secession looks imminent by the issue's apparent support
With little news in ensuing years since the Vision 21 Committee attempted to rebrand Downriver as "Metro Shores," it was safe to say the Downriver name would stick. But this time, a larger name change – much larger – loomed as a possibility. Wayne County would be faced with the possibility of splitting into multiple, smaller counties; the most populous probable county, anchoring Downriver, would be named Erie.
Much initial press was made of this 1996 proposal, as many claimed Wayne County had gotten too big and apathetic, and could not provide the services needed by its increasing amount of residents. At first glance it appeared to be a throwaway issue, as prior attempts to secede in 1991 and 1992 failed easily. This attempt, however, had the backing of Leonard Mannausa, who was running for the 23rd District seat in the State House and was seeking 247,000 signatures to put the issue on the ballot. A proposed southern county (Newburg) would make the issue more interesting, as both the proposed Erie and Newburg Counties were including Taylor in their official proposals.
President Bill Clinton visits Wyandotte on Literacy campaign
In August 1996, it was announced that President Bill Clinton would be visiting Wyandotte to give a speech on child literacy and education. This would be just the second time a sitting President would set foot in Wyandotte's history. President Theodore Roosevelt had made a whistle-stop in 1902 enroute to an engagement in Detroit; he gave brief remarks from the rear platform car of the train.
President Clinton, in the midst of his re-election campaign, was opposed by Republican candidate Robert Dole. It was decided for Clinton to visit Wyandotte en route to Chicago for a convention stop. Two sites were considered: Bacon Library or Roosevelt High School. After a second site survey, Bacon Library was decided as the venue.
Activity began at 6:00 AM the morning of the President's arrival. Two hundred phone lines had been installed at the library complex for press coverage. A total of thirty-five Secret Service Agents – some of whom were stationed on the roof of Bishop Co-Op Apartments – told residents to close their drapes and "don't look out." Most of the Wyandotte Police were out among the crowd in addition to 67 officers from surrounding cities to assist. Not long after people were admitted to the site after 10:00 AM, the crowd would grow to an estimated 15,000 on an event that would be carried live by CNN. Emceed by then-State Representative Joseph Palamara, he first introduced Beth Murray, president of the Library Board. She proudly held an oversized library card and suggested the President could sign it.
Before the President was scheduled to speak at Bacon, he made a brief stop at the former train station at Oak and Seventh Streets; passing Pennsylvania Road en route he was seen waving to the crowd. While Clinton was readying himself inside one of Bacon's reading rooms, students from McKinley Elementary School entertained the crowd by singing This Land Is Your Land, and It's A Grand Old Flag. After speeches by Congressman John Dingell and Senator Carl Levin, the President came out to great fanfare. His speech would last 22 minutes, and introduced his proposal for a $2.5 billion Literacy program, while also announcing the formation of Americorps, which would sponsor thousands of tutors with the ultimate goal of each child in the country being able to read proficiently by the third grade. After the speech, the President would meet for an hour with Civil Rights icon Rosa Parks, former Governor James Blanchard, Senators Donald Riegle, Carl and Sander Levin, and Representatives John Dingell and John Conyers.
"I want to thank the people here at Bacon Memorial Library. It is a beautiful, beautiful building,
and they gave me a few moments to collect my thoughts. And I thank them for the work they do in this community."
– PRESIDENT BILL CLINTON
Wyandotte (August 27, 1996)

President Bill Clinton takes a final look at his literacy speech notes inside Bacon Memorial Library: August 27, 1996. (Photo: The News-Herald)
Despite the Downriver Community Conference (DCC) losing emergency grant funds to rehabilitate McLouth Steel, a scheduled auction of the property went through, and was approved by a judge later that June. Employees were disheartened by the eventual news, but 310 total employees were retrained by the new ownership, led by Michael Wilkinson. Despite a threat by Detroit Edison to cut power, pensions were eventually secured following the ownership change, and along with it, plans in the spring of 1997 to discard the McLouth name once and for all, to be renamed Detroit Steel Company (DSC).
"Made in Detroit" seeks to Make in Downriver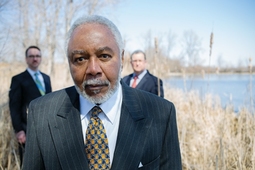 Bill Merriweather was Chairman of Made In Detroit, Inc., the company seeking to develop Humbug Marsh into a 409-acre living community entitled "Gibraltar Bay." (Photo: dbusiness.com)
At a Planning Commission meeting in Gibraltar in July, preliminary discussion began to take place for one of Downriver's most radical housing developments in history.
This would take place off the coast of Gibraltar and south Trenton, with the focus of the development taking place on the little-known Duck Hunter's Island.
The requesting party's name had not been heard from in these parts before: despite not having an active portfolio, Made In Detroit, Inc. (MID) obviously had a plan which excited the commissioners and many others. From about this time forward, Duck Hunter's Island would become known as Humbug Marsh.
---
Gibraltar agrees (in principle) to discuss development of Humbug Marsh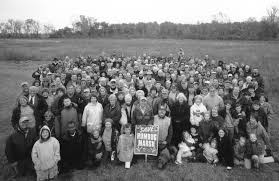 One of the first assemblies of supporters to save the marsh from development. (Photo: fwc.com)
In March of 1998, the city of Gibraltar acted on a proposal that had sat dormant for nearly two years. Made In Detroit Inc. (MID) had proposed over 400 acres of housing and mixed retail development along the south Trenton and Gibraltar coasts centered on what was now named Humbug Island. A potential tax was approved which would have captured funds for the needed infrastructure upgrades. However, as the months passed, this project continued on back burners, and was almost classified as "dead" by all concerned in July.
However, it would spring back to action with one unconventional suggestion: changing the conservation easement on 112 acres of wetlands and potential buffer zones. This would prove to be among the opening salvos in what would become one of Downriver's longest battles against development.
---
ARTICLE: "PARADISE LOST"
Many people who approved the project spoke out liberally and, on September 15, stormed into the Carlson High School auditorium in Gibraltar for an informational meeting. Made In Detroit (MID) stated that the development would enhance the area, and wouldn't take "no" for an answer. Every environmental group known in the area attended the meeting, however, and the project once again appeared in a crisis mode.
Despite this, workers were on Humbug Island at various times to clear brush. In December, they accidentally sliced out brush in the conservation easement, which was to remain untouched. The Michigan Department of Environmental Quality (DEQ – which had succeeded the old DNR) tried to persuade Wayne County Circuit Judge Louis Simmons Jr. to visit the area and approve a restraining order prohibiting more brush-clearing activity. After visiting, Simmons turned down the DEQ's request. Shocked, the DEQ would then next be under fire by MID for "cleanup costs."
---
New Millennium checks in with more environmentally-aware issues at bay
The new millenium, which clocked in without the expected computer glitches, power failures and general chaos, began with a gruesome discovery (and resulting clean-out) at the Hannah Court Trailer Park, located on the Ecorse/Lincoln Park border. A total of 22 trailers were moved out of the lot in the first phase of cleaning, leading authorities in many communities to take a second look at the condition of area mobile home parks, and to step up enforcement of maintenance wherever needed.
Meanwhile on Downriver's west side, the liquid waste disposal permit for Birmingham-based Environmental Disposal Systems (EDS) was nearing its approval stage in March. The site on Citrin Drive had stood ready for several years for construction of a well and above-ground facilities (which would have a 20-year lifespan), but residential backlash (the last occurred in November of 1999 at Romulus High School) helped postpone plans time after time.
State Representative Ray Basham said he had contacted various firms that EDS would sign agreements with, and stated that none of those places had the amount of waste flow necessary to create such an operation in Romulus. Additionally, with that segment of the market competitive already, another facility was not deemed necessary. Douglas Wicklund, the president of EDS, was not phased, claiming his company had "a better mouse trap" than any competitior, and that residents hadn't taken the time to learn exactly "what we are trying to do." A total of $11 million for development had been contributed to that point by the Detroit Police & Fire Retirement System, but it was estimated $12 million more was needed.
Schaefer farm officially ceases operations due to increased urbanization
Downriver's original "industry" showed definite signs of nearing an end. With only 6 1/2 acres of land to farm, and with the output being mostly hay bales, Mr. Schaefer announced he would be selling his house, barn and supporting property, thereby ending operations at a complex which once encompassed the entire northwestern corner of Southgate. Mr. Schaefer and family were planning to move to new quarters in Carleton, and mentioned that while he would miss the farming life, the construction of I-75 through Southgate in 1966 virtually halved his property and damaged whatever possibility was there to maintain full operations.
After over 200 years, question of Bob-Lo ownership gets put to the test again
"Right now the government is the judge, the jury and the whole thing. They've got all the power. That is not proper. That is not right."
– GRAND CHIEF PERRY BELLEGARDE
Federation of Saskatchewan Indian Nations
On May 1, 2000, the Canada Indian Claims Commission reported that Bob-Lo Island was never legally sold by the Walpole Island First Nation Indian tribe. The island had been deeded to them by King George III back in 1763, and it was asserted they never voluntarily gave up the land despite various acquisitions in the centuries following. As a result, the tribe claimed they never received fair compensation and were still entitled to the land rights, in spite of the fact a new housing development was already several years in progress. This would void an aboriginal deed that had been in place since 1786 which in turn had depended on a 1763 Royal Proclamation that – as it seemed to turn out – was never validated.
The Canadian government claimed the current owner, John Oram, had clear title to the land since purchasing it from the prior Bob-Lo Amusement Park partnership in 1994; the Indian tribe chief Joseph Gilbert claimed otherwise. A trial on this took place which would last into 2003.
Aquinas High School shutters its doors after 35 years of quality education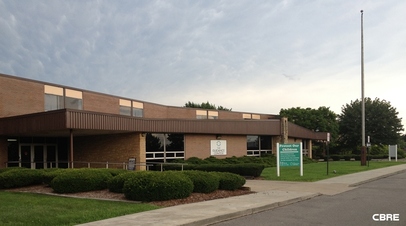 Aquinas was a partnership between Good Shepherd Church in Lincoln Park and St. Pius X in Southgate when built in the mid-1960s.
Just down Northline Road, Aquinas High School saw the last of its seniors graduate, as the institution would close its doors for the final time at the end of the 2000 school year. With total class sizes peaking at 800 in the 1970s, the entire student body comprised 83 students at the end.
A proposal six months earlier to combine the populations of Allen Park's Cabrini High, Riverview's Gabriel Richard High and Aquinas to form a new Downriver Catholic consortium (Cardinal Dearden High School) had failed.
The majority of the remaining underclassmen, as well as many of the staff, ended up at Cabrini High School, which pledged to keep some Aquinas traditions (such as their Academic Olympics) going.
---
The new Millennium gets rude awakening with a "100 year rainfall"
A three-day stretch of heavy rainfall occurred in Downriver and Detroit from September 10th thru September 12th. The Metropolitan area tallied 5.73 inches of rain over that period, which today ranks as the fourth heaviest three-day rain total in Michigan history. It was termed a "100-year rainfall," perhaps a way to signal a need for an official emergency declaration. In the midst of the worst of the storm, the local sewer systems malfunctioned, resulting in over 13,000 homes flooded by sewer system backups. It was later found that treatment plants in Detroit and Wyandotte were "run improperly," though nothing specific was stated. Of these flooded homes, there were 34 potential class-action lawsuits filed against Wayne County.
This would be the first real test of new wastewater treatment requirement guidelines first written in 1977 and revised in 1987; both times due to prior lawsuits. The prior two cases were settled by consent judgements. The cases in 2000 were instead referred to the Federal level. Plaintiffs would cry foul over this, desiring the cases to be held locally. Their request was overturned at the county level as well as from the Sixth Circuit Court of Appeals, as it was ruled the Federal courts did have proper jurisdiction to the claims.
The 11-year saga of Petroleum Specialties Incorporated comes to a close
By the end of 2000, the long-standing saga with Petroleum Specialties, Inc. (PSI) and its embattled owner Marvin Fleischman finally drew to a close. The December 28 edition of the Federal Register mentioned the Department of Justice and Fleischman agreeing to a consent decree, where the former business owner would owe a $6 million at-fault judgement, plus additional federal payments and fines. The majority of buildings and structures were leveled by this time, and contaminated dirt hauling from the site was completed.