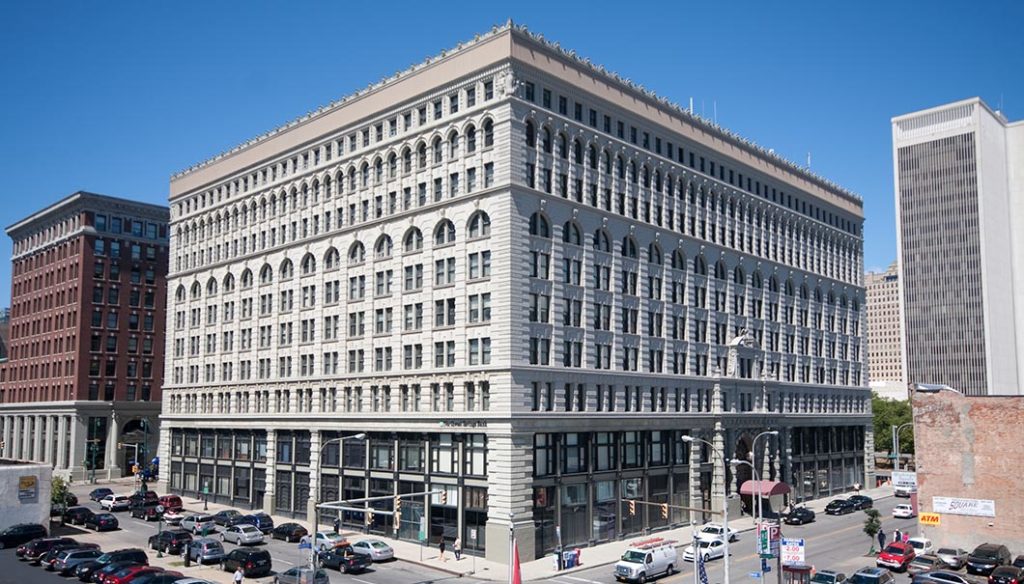 These familiar brand names were located within the boundaries of Downriver at one time or another during the last fifty-plus years.

The businesses may no longer be in existence, or may have relocated to other areas of the United States. But at one time, these local and national chains served Downriver well.
This list will be updated annually. Having recently left the list are Hardee's and Unocal 76, which have Downriver presence again. Among those adding to the next list will be Blockbuster Video.
| | | |
| --- | --- | --- |
| A & P (Atlantic & Pacific) The Great Atlantic and Pacific Tea Company had several Downriver locations, though they were just as well known for their takeover of the Farmer Jack chain in the early 1990s. Last known in the northeast US. | Arbor Drugs Organized in 1974 with a 5-store merger, many residents "came and saw the difference" at Arbor, which was the 8th largest pharmacy chain in the country prior to 1988. Now part of CVS. | Bill Knapp's Restaurant Its outstanding food selection and birthday specials were favorites of the older generation. Retooling "God's waiting room," for the younger generation would be what did the chain in. |
| | | |
| --- | --- | --- |
| Builder's Square Originally formed as Home Centers of America in 1970, it was bought by KMart in 1984 and then assumed its well-known name. It would replace the Michigan Drive-In at Southtowne Crossing Plaza. Children's Palace Offshoot of parent company Child World, this store also had the enviable distinction of replacing the Michigan Drive-In Theater in Southgate. It would end up losing the toy share to Toys R Us. Cunningham Drugs Began in Detroit in 1889. A huge (green!) presence Downriver until sold off and rebranded as Apex Drug by 1982 in a partial deal. These stores would then be sold off to Perry Drug some time later. Duff's Smorgasbord Sveden House in Allen Park was the only buffet choice Downriver until the early 1980s. Duff's time was short, but were memorable for their rotating dinner buffet. More exercise results in hungrier customers? Federal Dept. Store Michigan-based Federal, begun in 1929, enjoyed success for years in Southgate and Wyandotte before Steven West's managerial escapades doomed the company by 1980. Frank's Nursery & Crafts Frank's initially began as a produce carrier on Detroit's northeast side in 1942, Frank's grew to over 120 stores. With locations Downriver up to 2004, it was where beautiful things began. Howard Johnson's Built on a mastery of location and as much a definition of "Americana" as any roadside diner from the 1930s-1970s, the hotelier began as a restaurant chain; one location in Southgate. Hughes & Hatcher Detroit-based men's store most likely the #1 choice of men for suits and formal wear from the chain's formation in 1910 until liquidating in 1983. A mall staple at Sears Plaza (Lincoln Park) and Southland. K-Mart Once the blue-light specialist who put all discounters to shame, K-Mart set the standard early on, but internal turmoil as well as a failed merger doomed Downriver's chains to the history books. Media Play The answer to Blockbuster's monopoly: a store that was ahead of its time with its huge size and selection of unique, varied inventory. But almost as quickly as they appeared, they would disappear. Montgomery Ward Inducted into the Downriver Hall of Fame in 2014, the chain which introduced Rudolph the Red-Nosed Reindeer to the American lexicon would be a literal Southgate landmark from 1958 until 2000. New York Carpet World A direct local competitor to Clyde's Carpet, their iconic TV commercials with the arresting monotone voice of owner Irving Nusbam were among the huge draws to this thirty-plus year business. PACE Membership Warehouse The most successful of the area's first generation of wholesaling, it could not be beat during the 1980s, but it would not be able to handle new competition provided by Sam's Club in Southgate. Perry Drug Stores Formed in Pontiac in 1957, by the 1970s Perry's reach could be felt everywhere: 200 stores state-wide plus the 1980s discount chain of A.L. Price, which would compete with F&M for the retail dollar. Robinson Furniture The Robinson name came before Joshua Doore, then came after it – as an "uncle." Now located within the city of Detroit, it had a multi-year presence in Southgate at the current site of Binson's. Security Bank & Trust "When it comes to banking, Security is all you need" was one of Downriver's most well-known catchphrases for many years. They established their headquarters at Downriver's tallest high-rise; now vacant. SourceClub Meijer's answer to the membership warehouse popularity of the 1980s. Located north of the Taylor hypermarket, it would barely last a year before beginning a decade of languishing. Tri-State Furniture The name still exists to describe various second-hand furniture dealers out East. There aren't many details about Downriver's version: it succeeded Southgate's Kresge in the 1980s. Woolworth Discount Store The lunch counter at this beloved five & dime was the place for be for decades. Peaking in 1979, just 18 years later Woolworth was no more. It's now incorporated as Foot Locker. Wrigley's Supermarket Today the name is known in chewing gum circles, but as an early offshoot grocer, Wrigley had many Downriver locations in the earlier days. It would be the first store to open in the Southgate Shopping Center. | Borders Books & Music Began by brothers Tom & Louis Borders in Ann Arbor in 1971 and did not locate Downriver until the early 90s; it supplanted B. Dalton and Waldenbooks as Downriver's largest bookstore. Church's Lumber Yards A firm that would survive over 100 years in Michigan, its Downriver location was at Dix & Champaign, replacing the old Spartan Department Store (and former Sibley Lumber site) by the late 1970s thru the 1990s. Daly Drive-In A chain which once had many Downriver locations, including Dix & Outer Drive (Lincoln Park) and Huron River Drive near I-275 (Romulus). A main competitor of A&W at one time, down to one store in Livonia. F & M Discount One of Downriver's first wholesalers, this beloved health & beauty chain drew many customers by its size, availability of unique products, and low costs. Much missed today. Forge Restaurant Has been ranked as a very tough visual find in our archives. Ranked with Mr. Steak as one of Downriver's most beloved specialty restaurants into the 1990s. The cozy interiors made meals enjoyable. Great Scott! The grocer with the well-known double-heart logo had two different lives Downriver, concentrated in Southgate and Lincoln Park. Like Chatham, it revived in the 1980s, but would eventually be bought out. Highland Appliance Known for their popular local TV ads ("50 watts per channel…"), everyone would witness Highland's success, as they would eventually become the nation's second largest electronics retailer by 1985. Jack-In-The-Box Several Downriver locations of this popular classic chain survived into the 1970s. For those lamenting the loss, fear not: the Qdoba Mexican Grill, currently in Taylor, is operated by Jack-In-The-Box. Korvette's A Downriver Hall-of-Famer, one only needs to mention the name and the memories start flying. The inspiration behind the creation of the Downriver Things franchise, Southgate's store ran from 1963-1980. Mervyn's Mervyn's was Southland Mall's second addition, being added in the late 1980s. It would do good business for the most part until the chain decided the West Coast was their best market. Now the site of Cinemark. National Bank of Detroit Purists and critics were enraged when the venerable Wyandotte Savings Bank was bought out after over a century by NBD, but they ended up a pretty good neighbor. Most locations are currently Chase Banks. Office Depot The name may still exist in the commercials; once the local competitor to OfficeMax, it was the store that replaced Southgate's original K-Mart location on Eureka Road. Now in partnership with OfficeMax. Palace Fine Foods A restaurant chain that was not too fancy, yet not too gaudy. Numerous in number, The Palace was a steady, hard-working performer which always provided a top-of-the-line meal. Red Barn Restaurants A person knew that when the "Hungries" hit, he or she better hit the Red Barn. Taylor's location on Telegraph Road became better known as Downriver's last arcade location: Red Baron. Ryan's Steakhouse A competitor to the Ponderosa chain locally, Ryan's was known for their ample portions and complete dinner bar. Located in Taylor, the location would become Fire Mountain Grill, and now Golden Corral. Shopper's Fair The 1960s equivilent to Big Lots but with a department store touch, Shopper's Fair spent over 15 years Downriver with two locations in Riverview and Southgate. It departed both locations by 1975. Standard Oil Co. Victim of the country's first blockbuster anti-trust, our company was Standard Oil of New York, later named Socony, which ran the Woodhaven refinery into the 1980s. The name may make a comeback. Tuffy Muffler Shops What was one of the best places to get a deal on overall auto repair Downriver in the 1970s thru the 1990s? Gee, that's a Tuffy. It would ultimately become Midas Muffler's competition. Wickes Furniture Downriver's original furniture warehouse with the area's brightest parking lot was located in the well-known gray metal building at Fort & Pennsylvania from the 1960s to the 1980s. Wyandotte Savings Bank Established November 20, 1871, and for nearly a century was Downriver's best-known bank. It was merged (most unpopularly) into the NBD chain January 2, 1989, which became Chase. | Chatham Supermarket Formed in the early 1950s, best known locally with its location next to Korvette's in Southgate from 1963 until replaced by Pak N Save in 1985. After a second Southgate chance, Chatham's demise was met in 1991. Circuit City Known in its first 35 years as Wards Company (no relation to Montgomery Ward), Circuit City was the pioneer of the modern-day electronics superstore. Operated in Taylor until 2009. Downriver Federal Savings Only two local banks had "towers" to hold their headquarters: Security and D.R.F.S. This building is still Taylor's largest, even though D.R.F.S. was replaced by Heritage in the 1980s. Farmer Jack "Savings Time" became the household phrase for groceries Downriver, begun by Al & Tom Borman as the Food Fair chain in 1955 before becoming Farmer Jack in 1966, defunct 2007. Forest City / Handy Andy First incorporated in the 1920s as an arm of a real estate firm, the Forest City that Downriver knew best opened two stores in 1971 and became the area's premier home improvement store until fading by 1995. Gulf Gas Stations The petroleum chain is making a comeback in some southern states (complete with the classic logo, intact) but it has been over 30 years since Downriver's seen the "orange & white." HQ (Home Quarters) The chain that would push competitors like Builder's Square and Handy Andy out of the Downriver scene, HQ's freeway location in Southgate brought it an astounding business. Joshua Doore Everyone's favorite furniture "Uncle" had a warehouse location in Taylor in the 1960s-1970s (future Gibraltar Trade Center site). The chain has been reborn, but before that it housed a tragic story. Kresge Dime Store Formed near the turn of the century in Detroit, Kresge was on par with Woolworth as one of the area's premier dime stores. It would spin off K-Mart, which had a huge presence here. Mr. Steak "America's Steak Expert" would prove to be the first chain to challenge Bonanza and Ponderosa Downriver for the best steak experience. It would have locations in Taylor and Riverview. Neisner Five & Dime Unique in its Midwestern market, virtually everyone over age fifty has a story about the Wyandotte and Lincoln Park locations. An early 1970s attempt at expansion proved to be their undoing locally. Old Country Buffet Sveden House and Duff's may predate it, but the first true long-term family-style buffet chain Downriver would last nearly two decades, with two locations, under two different names. Perkins Pancake & Steak House A long-time national chain which would only locate Downriver for a few short years. It replaced Howard Johnson's in Southgate from 1973-1976, itself was replaced by Ted's Place from then into the 1990s. Revco Drugstores A pharmacy chain often forgotten about, but they had a commanding presence Downriver from the 1960s into the 1980s. They would eventually be bought by CVS despite having 2,500+ stores. Sears, Roebuck & Co. A one-time retail giant just recently lost, Downriver was blessed to have this booming catalog retailer at two locations: Wyandotte until 1977, and the most successful Lincoln Park store (1957-2019). Showbiz Pizza Originally called Showbiz Pizza Palace, the place where "a kid can be a kid", it would be part of the initial resurgence of the old Topps shopping plaza in Southgate in the 1980s. Over-shadowed by Chuck E. Cheese. Texaco This gas station chain still exists today in the south. Known for their "Fire Chief" brand of gasoline, Texaco had many locations Downriver, but all had moved into memory by the 1990s. Warehouse Club Not much is known about the history of this firm, but with its location at Outer Drive & I-94 in Allen Park, it would usher in the age of the membership warehouse Downriver until PACE Warehouse dominated. Winkleman's Detroit-based (formed 1928) brothers Isadore & Leon Winkleman were ahead of their time, focusing their long-term plans on suburban stores, a practice not commonplace locally until the 1950s. |