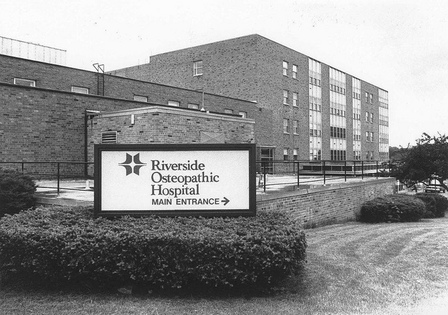 The multi-story wing of Riverside was added in 1967.
Riverside Hospital in Trenton appears to be on the way out as of May, 2015, following over a decade of closure. While many have voiced in to complain about the conditions (this writer included), we must not forget the interesting and rich history this facility will leave behind once it does indeed meet the wrecking ball.
Prior to the facility's opening, Downriver did not have any osteopathic hospital at all. For those with osteopathic needs, one had to travel thirty miles north to Detroit Osteopathic Hospital in Oak Park. This fact would help eventually bring together twenty osteopathic doctors to the home of Austin Church, who resided in a stately red house at 165 George Street, along the riverfront. This would become the first hospital building, and was opened August 1, 1944 at a cost of $17,562 to purchase the land from Mr. Church.
Originally licensed for thirty beds and nine bassinets, the hospital's numbers were impressive for only five months' operation: 775 patients registered and 133 newborns entered the world through Riverside. The overall operating loss was $26,000. The following year (1945), the numbers went up to 2,082 patients served with 304 births. Riverside turned a profit as well: $3,518. With the number of births rising, it seemed only natural to add a pediatric ward, which Riverside did in 1950.
The first in a series of expansions was approved in principle in 1953. Riverside would increase bed capacity from 30 to 61, doubled its surgical center and nursery/delivery room facility, added an X-ray department plus other supporting departments at a cost of $653,000. Staff counts at this time included 45 doctors and 115 nurses, service workers and support personnel. This first expansion as officially dedicated on June 6, 1954 and it would also include updated oxygen services for patients, improved sterilization procedures and air-conditioning.
Riverside's first classes began in 1957 with birthing seminars. Expectant moms were invited to attend screenings of infant-care films, then received a tour of the facility so they could become acclimated to their potential birthing surroundings. The year also saw a mini-expansion of 34 beds as well, bringing the total to 95.
By July of 1959, in addition to the 95 beds, official counts included 26 bassinets, 65 doctors, seven residents, six interns, plus a support staff totaling 238.
In July 1961, hospital director Edward Richardson announced a further expansion of fifty beds, to be paid for by a grant from the Hill-Burton fund amounting to $325,000. Completed in 1963, this new construction included two surgical suites, a pharmacy, lobby and administrative offices. Riverside was definitely growing, and its salaries were likely competitive for the time: a medical technician working there in 1964 averaged $2.02 per hour.
In 1967, Riverside served over 6,900 patients and witnessed 1,338 births. The following year, a $2.25 million expansion was announced, adding 86 beds for a total capacity of 220. It is worth noting in 1969, the hospital director officially banned skateboarding from the hospital grounds, as one patient fell off their skateboard and broke their ankle.
A key addition in 1974 as the installation of a HEMAC 630-L laser hematology counter. A top-notch machine of the time, it would save doctors enormous time when compared with the prior method of viewing displacement cells under a microscope.
Then in 1975, bonds were floating to be sold for what would be the now-familiar multi-story addition to the complex. Added in subsequent years were a 29-bed acute care unit in 1978, and a heliport in 1979. Riverside was now considered a Class 1 Comprehensive Care facility.
Riverside received its first major labor strife in 1978, as nursing staff went on strike from March 28 to May 12, protesting cuts in the amount of sick days given to employees yearly. The strike ended when their official request was withdrawn from the table.
In the early 1980s, Riverside received a commendation by the American Hospital Association for being an area leader in the field of ambulatory care. Further west-wing renovations resulted in Donriver's first specialty birthing center. It was also during this timeframe (in 1984) that Dr. Sarah Jessup installed what was then the world's smallest pacemaker into a patient.
As of 1990, the latest addition to the campus was a 20-bed mental health unit, as well as culmination of a $3.3 million construction project which added an 8-bed ICU unit, a 9-bed step-down unit, and the addition of a fifth floor.
** If anyone would like to contribute the story of Riverside's final 13 years as an active facility, please contact the webmaster on the main website's CONTACT page.